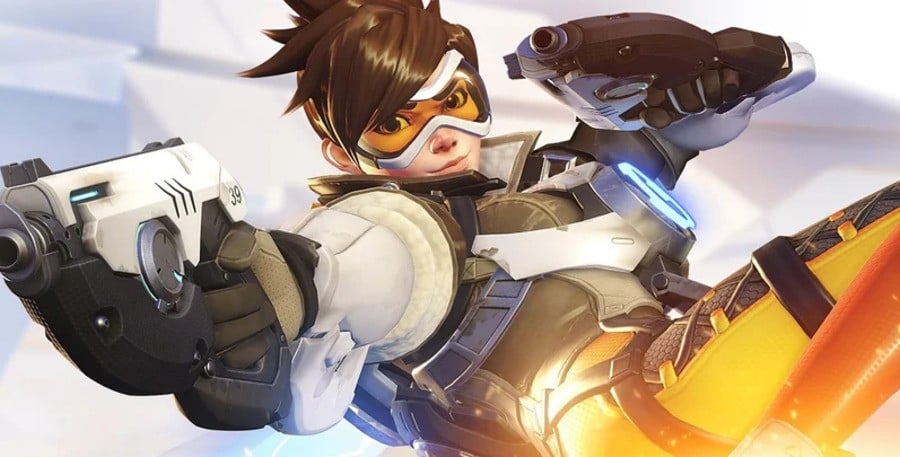 The latest Nintendo Download update for Europe has arrived, and it's bringing new games galore to the eShop in your region. As always, be sure to drop a vote in our poll and comment down below with your potential picks for the week. Enjoy!
Switch Retail – New Releases
The Witcher 3: Wild Hunt – Complete Edition (CD Projekt Red, 15th Oct)– You are Geralt of Rivia, mercenary monster slayer. At your disposal is every tool of the trade: razor-sharp swords, lethal mixtures, stealthy crossbows and powerful combat magic. Before you stands a war-torn, monster-infested continent you can explore at will. Your current contract? Tracking down the Child of Prophecy, a living weapon that can alter the shape of the world.
Yooka-Laylee and the Impossible Lair (Team17, 8th Oct) – They must run, jump and roll their way through a series of challenging 2D levels, face a puzzling Overworld and rally the Royal Beetallion to take down Capital B's Impossible Lair! Each level offers beautiful, rich visuals with detail and depth. Yooka, Laylee and a whole host of colourful characters (good and bad) are realised in stunning 2.5DThe overworld isn't just a hub, it provides a whole separate gaming experience! Explore and unlock more 2D levels by completing objectives and puzzles, rescue the Royal Beetalion bees and find collectables. – Read our Yooka-Laylee and the Impossible Lair review
Trine 4: The Nightmare Prince (Modus Games, 8th Oct) – Prince Selius suffers from intensely dark dreams and, due to his magical talents, monstrous nightmares are able to slip into reality and wreak havoc on the waking world. Amadeus, Pontius, and Zoya must find the afflicted prince and resolve the desperate situation before the world is engulfed by the Nightmare Prince's shadows. Trine 4 reaches new heights in the series, bringing the most complete gameplay experience ever to fans and new players alike! – Read our Trine 4: The Nightmare Prince review
Call of Cthulhu (Focus Home Interactive, £35.99) – Call of Cthulhu, the official videogame inspired by Chaosium's classic pen and paper RPG, brings you deep into a world of creeping madness and shrouded Old Gods within Lovecraft's iconic universe. 1924. Private Investigator Pierce is sent to look into the tragic death of the Hawkins family on the isolated Darkwater Island. Soon enough, Pierce is pulled into a terrifying world of conspiracies, cultists, and cosmic horrors. Nothing is as it seems. Sanity is an irregular bedfellow, all too often replaced by whisperings in the dark. Strange creatures, weird science, and sinister cults dominate the Cthulhu Mythos, intent on realizing their mad schemes to bring about the end of everything.
Killer Queen Black (Liquid Bit, 11th Oct) – Fight for your hive in this strategic team platformer with three ways to win! Hop on the snail, hoard berries, or wipe out the enemy's queen to claim victory. Fast-paced four on four team combat with four unique weapons: sword, morning star, laser and stinger. Three roles to play as, Queen, Soldier and Worker, each with their own strengths and responsibilities. Six different battlefields, each requiring different strategies to master. Five character skins to choose from.
Doraemon Story of Seasons (BANDAI NAMCO Entertainment) – Let's cultivate our garden! Nobita, our hero, lands in a random planet with his friend after getting caught by a storm. They meet the villagers and hear that the storm also hit the village and wiped everything except for one special tree. Nobita and friends decided to help the village to be prosper again, in exchange the village will help them to go back to Earth.
Bibi & Tina at the horse farm (TREVA, 10th Oct) – Ride Amadeus, Sabrina and eight other horses as Bibi or Tina. Explore the expansive grounds around Martinshof and Falkenstein Castle on horseback. Whether you're walking, trotting, galloping or jumping, show what you've got in varied horse races of different lengths and difficulties! Wild adventures await you!
Trine: Ultimate Collection (Modus Games, 8th Oct)
Spirit Hunter: NG (Aksys Games, 10th Oct)
The Alliance Alive HD Remastered (NIS America)
Switch eShop – New Releases
Overwatch: Legendary Edition (Blizzard Entertainment, 15th Oct)– Join the fight for the future in the world of Overwatch, and choose your hero from a diverse cast of soldiers, scientists, adventurers and oddities. Bend time, defy physics and unleash a dizzying array of extraordinary powers and weapons. Engage your enemies in iconic locations from around the globe in the ultimate team-based shooter.
The Bradwell Conspiracy (Bossa Studios, 10th Oct) – Following a sudden explosion at the Stonehenge Museum fundraiser, you find yourself trapped in a hidden underground complex. Your only means of escape is by sending photographs of your surroundings to another survivor confined elsewhere. But before long, a disturbing truth begins to dawn…Featuring an assortment of innovative puzzles and lore-enriching secrets, are you ready to delve into a world of corporate duplicity?
A Knight's Quest (Curve Digital, 10th Oct, £15.99) – Solve mind-bending puzzles, fight challenging enemies, defeat huge bosses and platform your way through a fantastic open world in this lavish take on classic action adventure games. Rusty begins his adventure with just a trusty sword and basic shield, but he'll soon unlock 'Spirit Powers' – spectacular abilities which have the power to transform not only himself, but also the world around him. Harness the powers of Fire, Ice and Time to devastating effect, using them to conquer enemies in battle or solve environmental puzzles. – Read our A Knight's Quest review
Valfaris (Big Sugar, 10th Oct) – After mysteriously vanishing from galactic charts, the fortress of Valfaris has suddenly reappeared in the orbit of a dying sun. Once a self-contained paradise, the grandiose citadel now plays host to an ever-growing darkness. Therion, a fearless and proud son of Valfaris, returns to his home to uncover the truth of its doomed fate and to challenge the arcane evil at its very heart. – Read our Valfaris review
A Winter's Daydream (Sometimes You, 8th Oct, £5.39) – his elderly grandmother has transformed into a cute young girl! Hijinks ensue. Nineteen-year-old Yuu can't stand his younger sister, Otoko, and the feeling is mutual. It's been almost a year since Yuu saw her last, having escaped his dreary home town to study in the bustling city, but with the advent of New Year's he finds himself obliged to return to his family to celebrate. Unfortunately, Yuu's absence has not softened his younger sister, and Otoko is just as sullen and surly as ever before.
Aldred – Knight of Honor (QUByte Interactive, 8th Oct, £0.89) – In Knight of Honor you are Aldred, the most powerful swordsman of the divine flame, passing through innumerable obstacles and war bosses to rid the kingdom of great evil. To progress in the game you need to be careful, each monster must be faced in a different way, switching weapons and spells can help you a lot. The amount of obstacles increases at each level, so it is imperative that you get some potions and upgrades on the merchant. Each level contains objects to destroy, pieces to collect and people to rescue if you are a player who likes challenges you will find many achievements in this 2D adventure game.
Battlestar Galactica Deadlock (Slitherine Software, 8th Oct, £24.29) – The Cylons have rebelled! Four years of war and a steep price in human lives have not been enough to unlock a deadly stalemate. The Colonials have countered all of the Cylon's offensives so far, but no decisive victory was achieved. The deadlock is suddenly broken by a surprise attack from the Cylons and the brutal annihilation of the Colonial Fleet High Command on Picon. The fate of mankind is now resting on the shoulders of Rear-Admiral Lucinda Cain. The secret, cunning plan she has conceived could turn the tide of the war forever…
Eternal Card Game (Dire Wolf Digital, 8th Oct) – The Game Has Changed Six-guns and sorcery collide in Eternal, the strategy card game of unlimited choices and unbelievable fun! Eternal offers the best of both worlds: Rich, deep strategic gameplay and counterplay with fast-spells and tactical combat! Next-gen touchscreen-friendly digital design with quick, smooth and intuitive gameplay! …all wrapped up with exciting digital mechanics and the most generous game economy out there!
Reventure (Pixelatto Games, 7th Oct, £7.99) – One hundred different endings. Choose your path, every decision leads to a new ending. Will you find the real one? Is there such a thing? Only one way to know.
Worse Than Death (Benjamin Rivers, 8th Oct, £7.19) – Run for your life, hide in the shadows, and use your wits to avoid shadowy creatures and uncover the terrible truths of your wretched home town. Solve devious puzzles to reveal the emotionally-charged story of Holly and her friends that will have you hooked until the very end!
STELLATUM (Sometimes You, 9th Oct, £13.49) – Throw a barrage of rockets on hordes of enemy ships, burning everything in your path! You are playing for an extraterrestrial race that has just become ready to conquer outer space. The whole story begins with the fact that you are going to destroy a comet that threatens your planet. An unforeseen event happened that dragged you into the midst of the battles. But everything may not be what it seems. Every element in the game was made with an individual approach, polished to the smallest detail. Excellent graphics drawing, visual effects, music and sound effects – all this is perfectly harmonized in its special style and atmosphere of the game.
Contraptions (Funbox Media, 10th Oct, £7.99) – How many steps does it take to change a light bulb? If your answer is 10 or more, then you are ready for "Contraptions" – a game where the goal is to fix whacky contraptions that perform simple tasks in indirect and convoluted ways, Rube Goldberg style. Use camels as trampolines, champagne bottles as cannons, balloons to lift objects, fireworks wheels to drive conveyor belts, magnets to attract metal objects, and many more gadgets to solve the puzzles and clear the levels.
Duped (No Moss, 9th Oct) – Duped explores themes of loneliness, isolation and identity, through a 2D action/puzzle platformer. Control a square on its journey to escape the cave it has found itself in. Create clones, control them, flip switches, build bodies out of your friends, get kicked around like a ragdoll. All of this awaits you, in Duped. Features: -Over 40 levels -Physics based puzzles -Minimalist story
Eliza (Alliance, 10th Oct) – After abandoning her high-powered tech career and mysterious three-year absence, Evelyn Ishino-Aubrey resurfaces working as a proxy for a virtual counselling app called Eliza. Her job consists solely of reading a script provided to her in real-time by an AI, leaving her no autonomy over what she says. Is Eliza a technological marvel that brings therapy to those who otherwise couldn't access it? Or is it an ineffective replacement and another vector for technology companies to gain control over our lives and humanity?
Family Tree (eastasiasoft, £5.59) – "Don't stay up too late, kids" said Mr Fruits to his babies one evening as he went to bed. But they were so busy glued to their screens they completely ignored him. All of a sudden the Evil Skull Pedro appeared, and with a mischievous cackle, he sucked all the Fruits family kids into a portal, turned them into actual fruit and then scattered them throughout all the trees in the forest! Can you get them all back?
Little Briar Rose (Elf Games, 10th Oct) – An ancient legend, a cursed castle surrounded by brambles, a forest inhabited by funny enchanted creatures and a sweet princess sleeping in it. And, obviously, a fearless prince! This is what Little Briar Rose is made out of. In this particular stained glass-styled graphic adventure the player will help a whole dynasty of princes complete their quest. Be careful though, many will try, but only one shall prevail!
Monochrome Order (KEMCO, 10th Oct, £12.14) – The world must forever make choices. The Arbiters' mission is to use the ancient magic known as "Judgment" to follow their own justice and guide the world to a better place. A newly-appointed Arbiter, is assigned to a desolate country where he will have to make various Judgments. However, not everyone will agree with his idea of justice. When faced with two extreme choices, which will he choose? Your Judgments will greatly affect the story and your character's role in both good and evil paths.
MISTOVER (KRAFTON, 10th Oct, £24.99) – "MIST-ical' RPG with expeditions for finding the key to survival. Choose your next step wisely and keep in mind that your every move will change the future. Create your own 'Corps' and explore through various regions in the Pillar of Despair: forests, lakes, mountains, cities, cathedrals, castles, and much.
Old School RPG Bundle (Plug In Digital, 10th Oct, £24.29) – Chroma Squad is a tactical RPG about five stunt actors who decide to quit their jobs and start their own Power Rangers-inspired TV show! Cast actors, purchase equipment and upgrades for your studio, craft weapons and giant Mechas out of cardboard and duct tape. Once the cameras are rolling, you will control your cast of five colored-jumpsuit-clad warriors in dramatic, turn-based battles!
Pocket Stables (Kairosoft, 10th Oct, £11.69) – Manage your very own ranch while training your racehorses to win big in exciting races! Build training facilities like dirt courses and pools amidst the beautiful natural surroundings of your ranch. Increase your ranch's fame and entice visitors to spend some dough at your ranch's amenities, like ice cream stands and gift shops. Find horses with the right combination of stamina and speed and intensity and train them to race. Keep winning races to earn bigger and better prizes, as well as the ability to compete in even bigger and more exciting races on an international scale.
Queen's Quest 4: Sacred Truce (Artifex Mundi) – After many years of peace between the Five Kingdoms, dark clouds are gathering over the realm of humans and elves. After an attempt to assassinate the Elf King, life's delicate balance, which was only maintained through the magic of the Sacred Truce, has come to end. Friends and neighbors are beginning to turn against each other. Suddenly the tiny village of Saddletown becomes the centre of attention for the entire kingdom – according to the elves it's where the would-be assassin is hiding. It seems that the people of the town must answer for his crimes.
River City Melee Mach!! (ARC SYSTEM WORKS, 1st Jan) – The Renegade/River City (Nekketsu Kouha Kunio-kun) series has had its share of success in the late 80's, and now, the "Fight it out! " part of its numerous spin-off sports series is back and powered-up! Four players can play at the same time, and the controls are so simple you can actually have your friends and family just hop in and play!
Secret Files Sam Peters (Koch Media, 10th Oct) – When alien DNA is spotted in the genetic code of algae living at a crater site in Ghana, sassy reporter Sam Peters goes after the story of her lifetime. Before she can start her research at Lake Bosumtwi, however, she has to cleave through the wilderness and escape feisty jungle animals by day and demon-like creatures from African folklore by night. And soon she has to ask herself, whether a creditable article on the front page of an esteemed science magazine is really worth risking her life.
Puzzle Book (QubicGames, 1st Jan) – Puzzle book offers 34 different puzzles to solve, divided into themes – from fantasy to dinosaurs. Arts for this game were made by artist specialized in various styles. They are beautiful paintings of creatures and landscapes or simpler drawings for kids. There is something for everyone! Speaking of everyone, you can adjust the difficulty by selecting the number of fragments per puzzle – from 6 to as much as 60! It's a great title for both children and adults. Add peaceful music that plays in the background and you've got a great, relaxing afternoon.
Shipped (QubicGames, 1st Jan) – Shipped is an adorable party game where up to 8 players compete in sea skirmishes. Choose your favourite girl and navigate the sea. Your ship can't break, so first learn how to manoeuvre. With simple controls, it's easy to start but hard to master. To win, you must push your opponents to crash on land or out of the screen. Or just shoot them. To do that, grab ammo crates. If you're out of cannonballs, use your cannon and blow air to push enemies or deflect incoming fire. Remember to keep up with the movement of the camera – if your ship goes off-screen, it will instantly explode! With five different modes, you'll never get bored playing Shipped. If you're short on friends to play, you can always add AI-controlled players or try the challenging single-player arcade mode.
Super Box Land Demake (Ratalaika Games, 11th Oct) – Pick from two characters to help solve moving box puzzles in order to advance to the next stage! Push boxes across a variety of different puzzling levels by yourself or with a friend in coop mode! Control two different characters at once even in single player! Choose from 3 difficulty options that make recovering from your mistakes harder!
Minefield (Kodobur Yazilim, 1st Jan, £3.99)
Asphalt 9: Legends (Gameloft, 8th Oct) – Read our Asphalt 9: Legends review
BurgerTime Party! (Marvelous Europe, 1st Jan, £17.99) – Read our BurgerTime Party! review
Arcade Archives THE LEGEND OF KAGE (HAMSTER, 10th Oct)
BDSM: Big Drunk Satanic Massacre (Big Way, 10th Oct)
Corpse Party: Blood Drive (Marvelous Europe, 10th Oct)
CrunchTime (Navila Software Japan, 10th Oct)
Mable & The Wood (Graffiti Games, 1st Jan, £12.14)
Midnight Evil (iFun4all, 10th Oct)
AeternoBlade II (Pqube, 11th Oct)
Silk (Huey Games, 11th Oct)
Alchemist's Castle (Kodobur Yazilim, 13th Oct)
DC Universe Online + Gotham City Starter Pack (Daybreak Game Company, 10th Oct)

Switch eShop – Demos
Resident Evil 5 (Demo) – One of the most popular Resident Evil titles can now be played on the go, featuring Chris Redfield and his partner Sheva Alomar, as they venture to the heart of Africa to investigate an outbreak. Featuring single-player and co-op modes, this fully-loaded package includes all previously released DLC (Lost in Nightmares and Desperate Escape story expansions, Versus mode, extra figures and 4 costumes), No Mercy mode, as well as the new mode "The Mercenaries United" which combines the two fan-favourite modes, The Mercenaries and The Mercenaries Reunion for an even more intense experience.
Resident Evil 6 (Demo) – Blending action and survival horror, Resident Evil 6 is a dramatic horror experience that cannot be forgotten. The game spans various areas across the globe starring multiple playable characters, including fan favourites and new faces. Jump into the fray either solo or up to 4-player co-op in 4 dramatic chapters of the campaign, or head into one of the extra modes such as Survivor – which pits up to 6-players head-to-head in a heated battle. This edition includes all DLC, along with two costumes per main character that were originally Residentevil.net exclusives, but are now unlockable through the game itself.
Puzzle Box Maker Demo (Bplus)
Hyperforma Demo (HeroCraft)
Doraemon Story of Seasons Demo (BANDAI NAMCO Entertainment)
Switch eShop – Pre-Orders
Farming Simulator 20 (Focus Home Interactive) – In Farming Simulator 20, take control of vehicles and machines faithfully recreated from leading brands in the industry. For the first time on Nintendo Switch, this includes John Deere, the largest agriculture machinery company in the world. Drive other famous farming brands such as Case IH, New Holland, Challenger, Fendt, Valtra, Krone, Deutz-Fahr and many more. Tend to your livestock of pigs, cows, and sheep, and now ride your own horses, letting you explore the vast land around your farm in a brand-new way.
Cat Quest II (Pqube, pre-order from 7th Oct)
Day and Night (Ridiculous Games, pre-order from 8th Oct)
ZikSquare (TOMAGameStudio, pre-order from 8th Oct)
Stranded Sails – Explorers of the Cursed Islands (Merge Games, pre-order from 9th Oct)
Yuri (Fingerlab, pre-order from 8th Oct)
Where the Bees Make Honey (Whitethorn Digital, pre-order from 10th Oct)
Safari Pinball (SuperPowerUpGames, pre-order from 10th Oct)
Switch eShop – Special Offers
DLC / Add-On Content
Nintendo Switch
Taiko no Tatsujin: Drum'n'Fun! – UNDERTALE Pack (Bandai Namco Entertainment)
Yooka-Laylee and the Impossible Lair – Trowzer's Top Tonic Pack (Team17)
Asphalt 9: Legends Starting Racer Pack (Gameloft)
Monochrome Order – Sword of Transcendence (KEMCO)
Monochrome Order – Fountain of Glory (KEMCO)
Monochrome Order – Eye of Truth (KEMCO)
Monochrome Order – Chain of Destiny (KEMCO)
Monochrome Order – Source of Vitality (KEMCO)
Monochrome Order – Infinity Ring (KEMCO)
GRIP: Garage Bundle Pack 3 (Wired Productions)
Pic-a-Pix Pieces: 15×15 Pieces Pack 10 (Lightwood Games)
Pic-a-Pix Pieces: 20×20 Pieces Pack 10 (Lightwood Games)
Taiko no Tatsujin: Drum'n'Fun! – Detective Conan Pack (Bandai Namco Entertainment)
WorldNeverland – Elnea Kingdom: Halloween Costume Set (althi)
Starlink: Battle for Atlas – Starlink Digital Collection Pack 2 (Ubisoft)
Mario + Rabbids Kingdom Battle: Donkey Kong Adventure (Ubisoft)
Mario + Rabbids® Kingdom Battle : Season Pass (Ubisoft)
South Park: The Fractured but Whole – Season Pass (Ubisoft)
So that's your lot for this week's Nintendo Download. Go on, be a sport and drop a vote in the poll above, and comment below with your hot picks!