Fortnite is revealing the details of its June 2022 Fortnite Crew Pack, which includes content correlated to the game's ongoing storyline.
Fortnite has managed to stay at the forefront of relevant video games not only because of its winning formula, or the constant updates it makes to keep said winning formula fresh, but its other various offerings it has to keep its massive player base interested. One of these retention tactics is through Fortnite Crew, of which Epic Games has revealed the details for the month of June.
For those who may be unaware, Fortnite Crew is Fortnite's monthly subscription service, where for $11.99, subscribers get exclusive skins and other cosmetics, the current season's Battle Pass, as well as a monthly stipend of 1,000 V-Bucks. The service occasionally offers extra perks to entice players, such as permanent access to Save the World Mode or free Spotify Premium.
Detailed in an official blog post, it is revealed that the Fortnite Crew Pack for June 2022 will feature a Mecha Strike Commander skin. Titled "Metal Ascension," the pack will consist of the Mecha Strike Commander Outfit, the Mecha Light Capacitor Back Bling, and the Mecha Reborn Wrap. In addition to the various cosmetics and the usual 1,000 monthly V-Bucks, Fortnite Crew subscribers will gain access to the current Season 2 Battle Pass, as well as the Battle Pass for the upcoming Chapter 3 Season 3. Subscribers who've already purchased the current Battle Pass will be reimbursed 950 V-Bucks.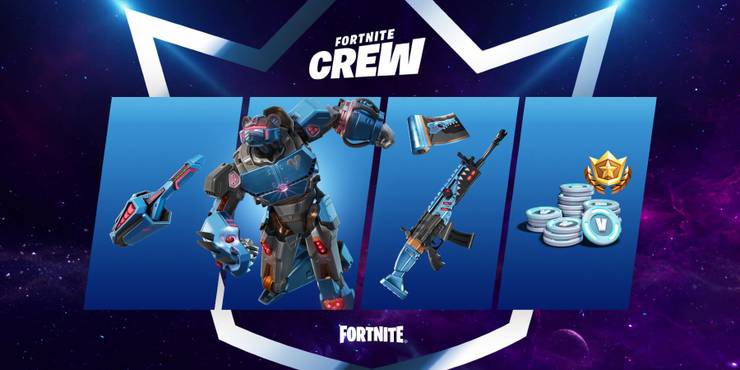 The Mecha Strike Commander skin appears to be aptly timed with Fortnite's Chapter 3 Season 2 end event, "COLLISION." The fast-approaching event, scheduled to take place on June 4 at 1 PM PT/4 PM ET, will see the return of Mecha Team Leader from Fortnite's first chapter. Slowly being reassembled in the background of the lobby, the giant mech will most likely try to put a stop to Dr. Slone's Collider machine. With Mecha Weapons Team Outfits available in addition to Mecha Strike Commander, players have plenty of options for properly suiting up for the season-ending event.
In addition to the return of season-ending events (and related cosmetics), it has also been announced the Fortnite Championship Series will return to in-person competition. After several years of cancellation due to the COVID-19 pandemic, Epic Games revealed the FNCS Invitational will be hosted in person on November 12-13 in Raleigh, North Carolina. Duos will compete for a $1,000,000 prize pool, one of Esports' biggest prizes. Although it may be a while before Esports events are back up to full steam, it's certainly heartening to see in-person gaming events making a comeback.
Fortnite is free-to-play on PC, PS4, PS5, Switch, Xbox One, and Xbox Series X/S.