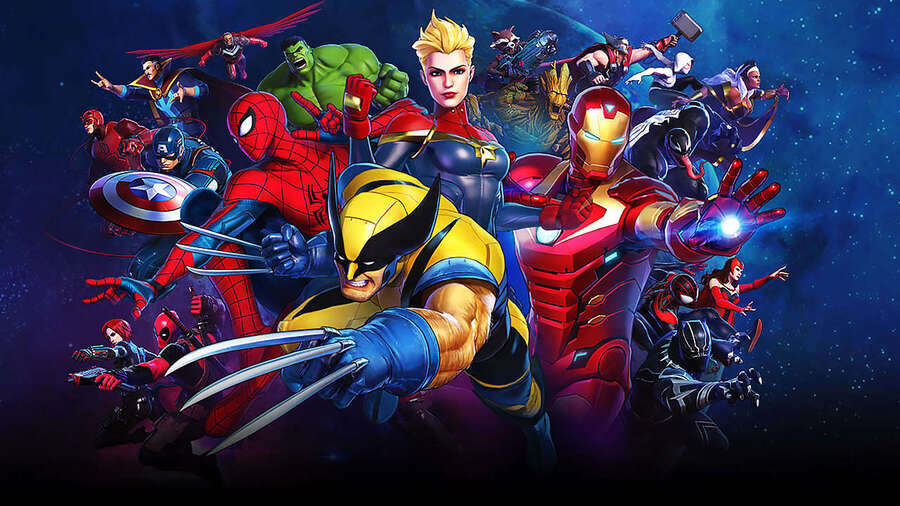 What a week it's been! Nintendo revealed a Switch revision with improved battery life, locked in the release date for Luigi's Mansion 3 and announced two new sets of Joy-Con. On the third-party front, we found out when Resident Evil 5 and 6 would arrive and Sega finally confirmed Super Monkey Ball: Banana Blitz HD. Brushing aside the week that was, it's now time to focus on the final Splatoon 2 Splatfest, Marvel Ultimate Alliance 3 and the many other games we'll be playing this weekend. We're also joined by a special guest from a certain website you'll likely be familiar with!
Austin Voigt, contributing writer
Well – my weekend plans will likely be the same as last weekend's, but I'll be replacing What Remains of Edith Finch (which I finished and wept over), with the final Splatfest (which I will also likely weep over). I also plan to acquire the full version of Dragon Quest Builders 2 and get lost in that – I checked out the demo last weekend and loved it, so you'll find me splatting and building all weekend long.
Dom Reseigh-Lincoln, reviewer
This weekend, I'll be a busy boy with three very different games occupying my free time. Firstly, I'll be taking FIA European Truck Racing Championship for a spin to see if big rig racing can really work on Switch. Then I'll be channeling my inner Ragnar Lothbrok as I brave the elements and attempt to survive (and thrive) in the survival RPG realm of Dead in Vinland: True Viking Edition.
Finally, I'll be trying out a game that's been on my to-do list for a while now: Mutant Year Zero: Road to Eden. I've never been the biggest fan of tactics-style games, but the art style and the fact you can play as a grizzled-looking mallard has me seriously intrigued. Look out for reviews of all three in the coming weeks, right here on Nintendo Life.
Liam Doolan, news reporter
My main gaming priority this weekend is to help Team Order win the Splatpocalypse event. Who knows what will happen to the world of Splatoon if we let Pearl and Team Chaos win? It's just a pity my expensive Splatfest-themed t-shirt won't arrive until well after this event has finished.
When I'm not fighting to the bitter end in Splatoon 2, I'll be saving the galaxy or at least attempting to save whatever else needs saving in Marvel Ultimate Alliance 3: The Black Order. I'm still trying to work out my ultimate team. I'm thinking Wolverine, Spider-Man, The Hulk and Captain Marvel might be a good combination to start with. I should probably revisit Bloodstained: Ritual of the Night as well.
Gonçalo Lopes, contributing writer
The Summer of Switch relentlessly continues to bombard us with quality titles. I had a ton of music-related work due to the release of two individual projects, so I ended up not playing as much as I wanted during the week. I will make up for it this weekend with sessions of The Messenger, Blazing Chrome, Rise: Race The Future, Arcade Archives The Ninja Warriors (Zuntata turned up to 11, of course) and by participating in the Splatpocalypse.
Game of the Week naturally falls onto Marvel Ultimate Alliance 3: The Black Order. I have always enjoyed the series and no way I was not going to snap up the ultimate, Switch exclusive edition of the franchise. A true shame I have no local buddies to play it with…
Gavin Lane, staff writer
I'm currently on my holidays and the 4G/3G reception in this particular corner of rural Portugal means internet distraction is (thankfully) being kept to a minimum. Therefore, I should have plenty of time to finish GRIS, Abzu and one or two others queued up in my backlog. I'd love to get involved in a match or two of the final Splatfest, but that's dependent on the hotel WiFi, so we'll see. I sided with Team Order purely because it's Marina's team and as tentacle-haired ladies go, Marina's particularly lovely. Stop judging me!
Robert Ramsey, Push Square deputy editor
Yes, you read that right — I'll be sitting down to play some Nintendo Switch this weekend. Naturally, Super Smash Bros. Ultimate is on the docket — a family favourite and once things get heated, it's incredibly difficult to put down. Mario Kart 8 Deluxe is also on the agenda, I think. I've loved me some Crash Team Racing Nitro-Fueled over the last few weeks, but there's only one king of the kart racers, and it's Mario.
Which games are you playing this weekend? (43 votes)
Marvel Ultimate Alliance 3: The Black Order
16%
What Remains of Edith Finch
  0%
Dragon Quest Builders 2
9%
Mutant Year Zero: Road to Eden
  0%
Bloodstained: Ritual of the Night
  0%
Arcade Archives The Ninja Warriors
  0%
Super Smash Bros. Ultimate
2%
Crash Team Racing Nitro-Fueled
7%
Dead in Vinland: True Viking Edition
  0%
Something else (comment below)
28%
Please login to vote in this poll.
As always, thanks for reading! Make sure to leave a vote in the poll above and a comment below with your gaming choices over the next few days…