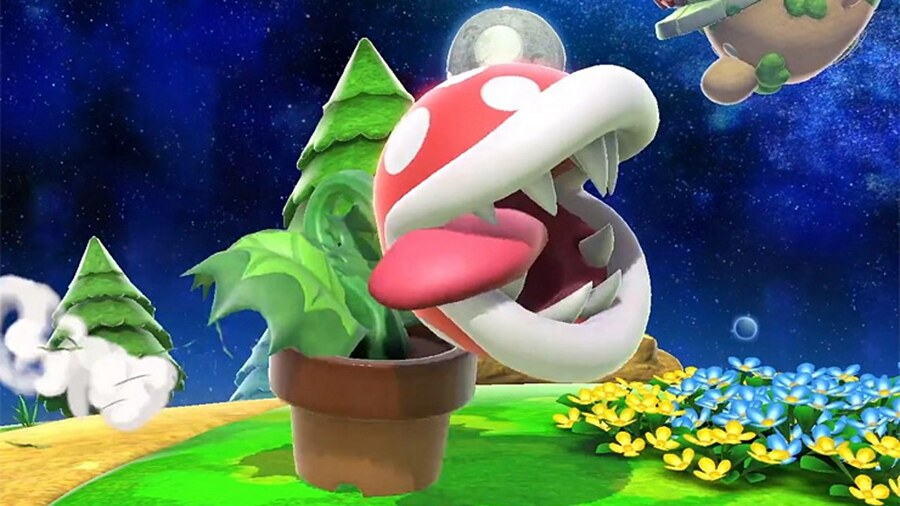 Attention all lovers of free DLC and angry, bitey plants! You have just one week from today to claim your free Piranha Plant DLC character for Super Smash bros. Ultimate.
Yes, because 74 lovely characters just aren't enough, Piranha Plant is scheduled to arrive as the first bonus character "around" February – that's next month! If you already own a copy of the game, or if you grab it over the next few days, you'll be able to snag the fighter as a free bonus.
As the tweet mentions above, you have until 31st January to get it for yourself. To receive the character, all you need to do is register your copy of the game on your Nintendo account – you'll then receive a code to download it via email. If you purchased the game digitally, this is done automatically; if you buy a physical copy, you'll need to manually register it on your Switch by following the steps below:
Insert the game card into the Nintendo Switch console.
Highlight the game icon on the Nintendo Switch HOME menu.
Press the + or – button to access the Options menu for that software.
Highlight "My Nintendo Rewards Programme," then select "Earn Points (game card version only)."
Select the Nintendo Account you want to receive the Gold Points.
If you haven't picked up your copy of Smash Ultimate yet, now might be a good time to do it. Piranha Plant will be available as paid DLC for those who don't register before the date, but who doesn't like free stuff?
Have you secured your Piranha Plant DLC? Are you excited to try it out when it arrives in-game next month? Let us know in the comments.