Overwatch 2 will be free-to-play when it releases, but fans can still purchase a version of the game, giving them a particularly ironic bonus.
It's been a few months since fans had their first look at the highly anticipated Overwatch 2, and opinions are divided to say the least. Though Overwatch 2 was first stated to be a fully-fledged sequel, and its current marketing would suggest as much, some fans are giving it the moniker Overwatch 1.5, expressing their disappointment with the game reusing assets, maps, and mechanics from its predecessor. While some fans have gotten to play Overwatch 2 through its recent beta, and have come around on the game a little, Blizzard's marketing hasn't exactly left the intended impact.
Recently, Blizzard announced that fans could pre-order Overwatch 2 in a special edition named the Overwatch 2: Watchpoint Pack. While Overwatch 2 will be free-to-play on launch, this special edition costs around $40, leaving some fans to be a little skeptical of the pack's offerings. Though the Watchpoint Pack mainly offers fans a range of cosmetics for the upcoming game, there's one inclusion that's a little baffling.
Buying Overwatch 2 Gives Players Overwatch: Legendary Edition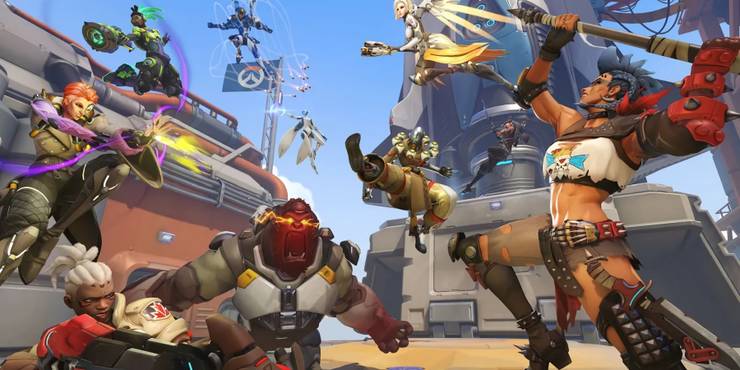 One of the biggest selling points of the Overwatch 2: Watchpoint Pack is that it comes with Overwatch: Legendary Edition, a special version of the original game with exclusive cosmetics. While including previous entries as a pre-order bonus is nothing new to the gaming industry, with the likes of Far Cry 5's season pass including a remastered version of Far Cry 3, the decision to include it as part of this $40 special edition of a free-to-play game, seems a little odd.
For a start, fans of Overwatch have already likely been playing the original for a while now, with it first release six years ago. As the main demographic for the Watchpoint Pack is long-time fans of the series who care enough about cosmetics to shell out $40 for them, it seems pretty backwards to give out a copy of the original game. This is also a pretty odd move considering Overwatch can be picked up for around $10-15 from the likes of GameStop.
There's nothing wrong with including the first Overwatch in the Watchpoint Pack, but it's place as a major selling point is strange. On PlayStation's own store listing for the Overwatch 2: Watchpoint Pack, Overwatch: Legendary Edition is given top billing on the contents list, right under the guaranteed access to Overwatch 2's upcoming beta. Most of the actual Overwatch 2-related content comes further down the page, suggesting that it's not as important.
To make matters worse, the Overwatch 2 development team has just announced that the Overwatch sequel will be replacing the original upon its October 4 release, rendering Overwatch: Legendary Edition unplayable, and in turn, making its inclusion in the Watchpoint Pack even more redundant. Previously, Overwatch 2 Director Jeff Kaplan had stated that the game was going to coexist with the original, allowing players from both games to play with each other, or on their own specific servers. This also suggests that Overwatch's old 6v6 system is being entirely scrapped in favour of Overwatch 2's 5v5 setup, which is still proving controversial.
For those uninterested in buying the Overwatch 2: Watchpoint Pack for Overwatch: Legendary Edition, there are a few extra bonuses that will be unlocked on October 4, when Overwatch 2 finally drops. Buying the Watchpoint Pack will give players the Season 1 Premium Battle Pass, a Soldier 76 and Cassidy Legendary skin, 2000 units of Overwatch 2's in-game currency, and a unique player icon, along with guaranteed access to Overwatch 2's beta.
Overwatch 2 launches in early access for PC, PS4, PS5, Switch, Xbox One, and Xbox Series X|S on October 4th, 2022.