Following the two-part success of the Naruto collaboration with Fornite, it only makes sense for Epic Games to implement more anime-centric skins.
Fortnite has grown into an ever-evolving staple of the Battle Royale game genre since its launch in 2017. From a Save the World mode to increasingly popular Battle Passes to a Zero Build mode, the effort put into Fortnite has proven that the developers are willing to think of all sorts of ideas to keep the game feeling fresh.
Recent updates in Fortnite Chapter 3, Season 3 have seen the return of ballers, new weaponry such as the Ripsaw Launcher, Runaway Boulders scattered about, and significant overhauls to the map which now include the Rave Cave and Reality Tree. However, an even more exciting update to the game has seen the return of a beloved shonen anime through some new skins.
The Popularity of Crossover Skins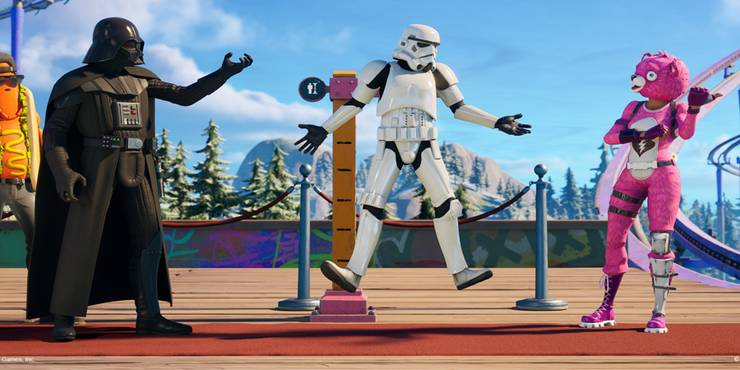 Epic Games' willingness to collaborate with other franchises, such as the indie developer InnerSloth LLC with a recent Among Us partnership, has made the free-to-play shooter a cornerstone of the gaming world in terms of massive crossover events. The Vibin' Update is continuing to give more content to its players, including the introduction of Darth Vader, who was revealed as this Season's final boss, Indiana Jones who acts as a Bonus Outfit within the Battle Pass, and the return of the beloved Naruto skins.
The wide availability of skins through Battle Passes and the Item Shop has turned Fortnite into a melting pot for finding all sorts of characters from different mediums. This truly may be the only game that can observe a trio of Kakashi Hatake's battling Jinx, Spider-Man, and Master Chief with Darth Vader's lightsaber. Many of the game's most popular skins are those that belong to another franchise, including the highly sought-after John Wick, Deadpool, and Harley Quinn outfits.
Epic Games Needs More Anime Skins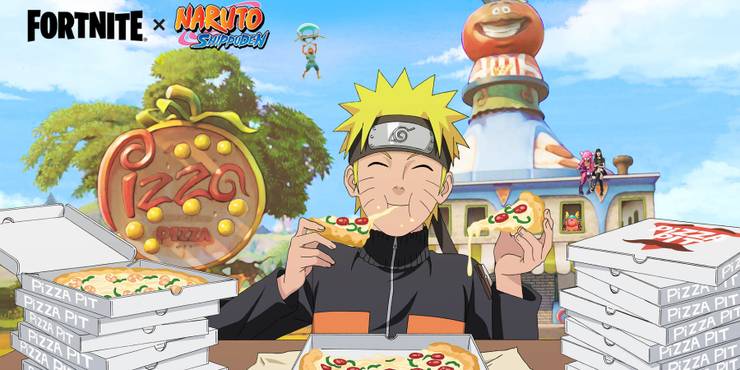 However, if there is a category that is lacking in Fortnite skins, the anime section would be a good contender for the most underrepresented. Epic's first attempt at an anime-esque 2D character in their three-dimension world, Lexa, was poorly designed but sold extremely well despite that. Her popularity led to experimentation with the Y-Labs Rescue Orin skin, who was treated as a male counterpart to Lexa, and the eventual integration of better-looking 2D characters like Erisa, Yuki, and Zoe Clash.
At the moment, out of around 1300 skins in the game, only a handful can be categorized as anime, with only the Naruto Part 1 and Part 2 skins being from an actual anime rather than original characters. This small list includes Team 7, which consists of the jinchūriki of the Nine-Tails, Naruto Uzumaki himself, Kakashi Hatake, Sakura Haruno, and Sasuke Uchicha. The most recent additions to the list saw the arrival of Itachi Uchiha, Hinata Hyuuga, Gaara of the Sand, and Orochimaru to the island, which opened up new Nindo Challenges to complete based on the character's separate paths.
Following the two-part success of the blockbuster crossover, it only makes sense that Epic Games implement more anime-centric skins from well-known franchises. Perhaps a potential third iteration of Naruto skins in Fortnite could see Rock Lee removing his weights to join the fray, along with Jiraiya, Neji Hyuga, and Shikamaru Nara.
Potentially, even more, tantalizing with the final part of Attack on Titan season four on the way, it's surprising that Fortnite hasn't already made the decision to capitalize on the extremely successful title by bringing Eren Jaeger, Levi Ackerman, Mikasa Ackerman, and Armin Arlert to the island. Call of Duty did the Attack on Titan crossover first, although the realistic designs that Vanguard and Warzone utilized didn't sit well with most fans, whereas Fortnite has all but mastered maintaining the likeliness of characters.
Further, with the release of Demon Slayer and Jujutsu Kaisen films in theatres across the globe in recent years, it would have been enjoyable to see these well-liked shonen characters come to life in the game. Even now, with anime like Spy x Family skyrocketing to the top anime of the year and most-watched anime in Japan, it certainly isn't too late for Epic Games to cut a deal to bring the Forger family onboard.
It seems Epic was already asking fans last year, via an email survey, about their opinions toward certain characters. This survey featured Goku from Dragonball Z, Shoto Todoroki and Ochaco Uraka from My Hero Academia, Darling in the Franxx, Jujutsu Kaisen, Sword Art Online, and Jojo's Bizzare Adventure. It seems how people answer these surveys can make a difference, as Guggimon was in a previous survey before he arrived in Chapter 2, Season 7, and Among Us was in the July 2021 list. As such, maybe there is hope for more anime characters to be added in future Seasons.
Epic Games certainly isn't slowing down with its progression of Fortnite, and it has nearly endless potential in terms of future collaborations. However, following a leak that Warner Brothers may be limiting or banning the addition of any further characters from its property due to the company's Super Smash Bros-like game Multiversus, Epic may no longer have access to DC Comics characters. With this knowledge at hand, it could be the perfect moment to start delving deeper into the world of anime.
Fortnite is available for PC, PS4, PS5, Switch, Android, Xbox One, and Xbox Series X/S.