A fan of Final Fantasy 7 shares images of the official Square Enix Buster Sword ice tray they purchased, including what the ice cubes look like.
One way that video game companies try to keep older franchises at the top of the communities' minds is through the release of official merchandise. Square Enix is well-known to produce and market a variety of Final Fantasy merchandise, especially one of its most popular series entries, Final Fantasy 7. Recently, a fan shared images of the official FF7 Buster Sword ice tray they purchased and showed off what the ice cubes look like once they are fully frozen.
Though most hardcore fans would likely love to have figures of their favourite Final Fantasy characters displayed in their homes, houseware is a great and subtle way to show off that they are part of the fandom. Square Enix is aware of this side of the community and has released a range of household products and wearable items such as watches, jewellery, bedside table clocks, drinking glasses, towels, and even luggage. This ensures that the fanbase will find something from the official merchandise range that suits their tastes.
On Reddit, user Kagebi shared that they were able to purchase the official Final Fantasy 7 Buster Sword ice tray. The images the Redditor posted showed that their ice tray had already been filled with frozen water, shaped to the likeness of Cloud Strife's iconic weapon. The tray is able to hold three ice cube swords at once, so fans can easily add another to their drink if their first one melts down. According to the official Square Enix store, the tray is still available for purchase and is priced at $19.99.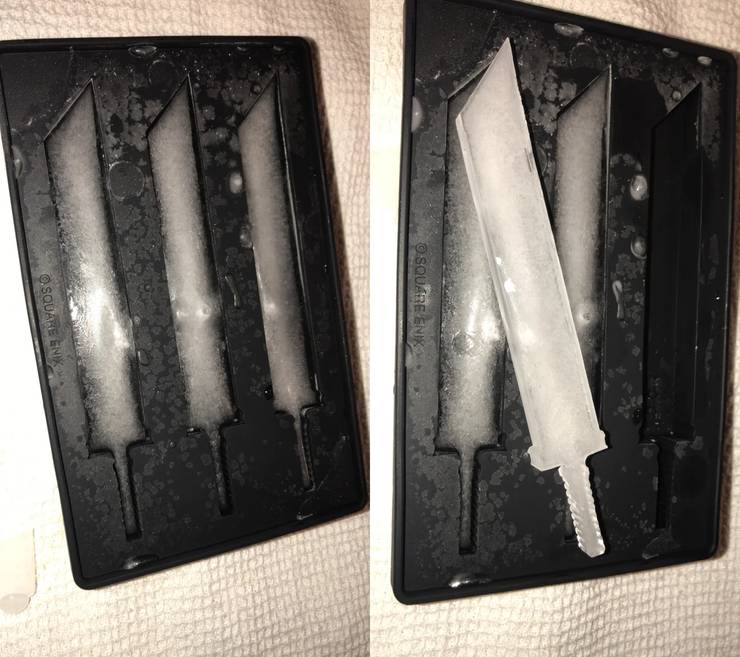 Replies on the Reddit thread expressed interest in the ice tray, especially since it shows off such a unique shape. Others made comments about Kagebi using a mix of Final Fantasy 7 material to get their water to freeze, while a couple of users gave the Redditor tips on how to get their water to freeze clearly. This is so that the intricate details of the Buster Sword will shine through, and that the owner will be able to appreciate the ice tray more.
This is not the only ice tray that Square Enix has produced and released recently, the company also made a tray to show off the different Final Fantasy 14 character class symbols. Hopefully, the company produces more household items that go beyond the Final Fantasy 7 series, as there are many in the community who are fans of the other video games in the Final Fantasy universe.
Final Fantasy 7 Remake is available now for PC, PS4, and PS5.