Here are the Best AR's in MW3 folks!
While there are many capable SMGs and shotguns in MW3, you'll still need a class centered around an Assault Rifle to perform well on larger maps. With more than 35 ARs to choose from, which ones are worth your time? What are some of the best Assault Rifles in Modern Warfare 3? Let's answer that question through this detailed guide.
We've compiled a list of the 8 best Assault Rifles in MW3 based on their TTK, recoil, overall stability, and the weapon's ability to work well with different builds.
FR Avancer
Unlocks at Level 55
The FR Avancer can be a solid choice as a secondary firearm in any Sniper build you might be thinking of making in MW3. Don't expect this weapon to deal an insane amount of damage, though; that's partly the reason why it's at #8 in our ranking.
This recreation of the FAMAS bullpup AR is still good enough to get you out of a hairy situation when your main weapon is out of bullets or if you need to hold off against multiple enemies.
Recommended attachments for the FR Avancer:
Muzzle: Sakin Tread-40
Underbarrel: Edge-47 Grip
Magazine: 45 Round Magazine
Rear Grip: SA Cation Grip
Laser: Schlager PEQ Box IV
With these attachments, your Avancer will be compensating for less damage with more bullets per mag and a very controllable recoil pattern.
STB 556
Unlocks at Level 55
The STB 556 gets ported over from MW2 and remains impressive because of its insanely high accuracy and decent damage output while handling medium to long-range fights. This was my go-to weapon in Warzone and has helped me secure a lot of tricky wins.
With the right set of attachments, you can push this weapon even further and keep using it across all kinds of game modes.
Recommended Attachments for the STB 556:
Muzzle: Sakin Thread-40
Laser: 1MW Quick Fire Laser
Underbarrel: XTEN Nexus Grip
Optic: Slimline Pro
Magazine: 42 Round Mag
DG-58
Unlocks at Level 25
Meet the DG-58, a dependable burst rifle with a slightly low rate of fire. But, if you pick the right attachments and tune them to your liking, you are looking at a weapon that excels at long-range encounters and mows down enemies in a couple of bursts.
Oh, and another edge you get with MW3 is the option to turn burst firing into a Hold button mechanic. That means your weapon will keep firing bursts as long as you are pressing the button. This new change also solidifies the DG-58 as the best burst AR in MW3.
Recommended Attachments for the DG-58:
Barrel: DG-56 LS 18
Stock: Extended TP-9 Buttplate
Rear Grip: Varanus Steady Grip
Underbarrel: SL Skeletal Vertical Grip
Optic: MK.3 Reflector
The intent with these attachments was to create an accurate and stable burst rifle that recenters quickly and allows for quick follow-ups.
Holger 556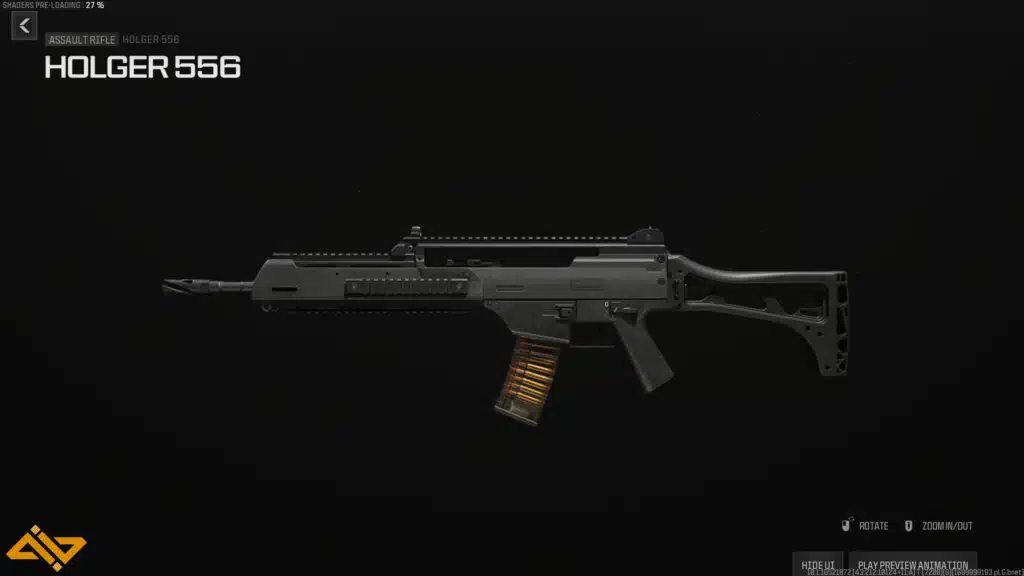 Unlocks at Level 37
The Holger 556 is another new AR in MW3 that has a fast rate of fire & TTK. It is based on the G36C that was featured in the OG Modern Warfare games. It requires very little tuning to make it work at all ranges. I've been using it quite a bit since the game launched and am happy to include it in the top 5 ARs on this list.
Recommended Attachments for the Holger 556:
Muzzle: Shadowstrike Suppressor
Underbarrel: XRK EDGE BW-4 Handstop
Stock: RB Addle Assault Stock
Optic: Slate Reflector
Magazine: 40 Round Mag
Use these attachments to stay completely off the radar and mow down anyone you see with an Assault Rifle that has fast ADS speeds and almost negligible recoil.
Kastov-74U
Get the Kastov 762 to Level 12 and get the Kastov 545 to Level 13
The Kastov-74U easily makes it into the top rankings because of its high damage, stability, and easy-to-control recoil. You'll just have to work with its slightly slow rate of fire, but it's a con that can easily be overlooked.
Recommended Attachments for the Kastov-74U:
Barrel: Shorttac 330mm
Underbarrel: Phase-3 Grip
Ammunition: 5.45 High Velocity
Magazine: 45 Round Mag
Optic: Cronen Mini Pro
With these attachments, you'll see a drastic increase in the bullet velocity, a decrease in the weapon's recoil over long-range fights, and more bullets per mag. Checks all the boxes a good AR needs to check.
SVA 545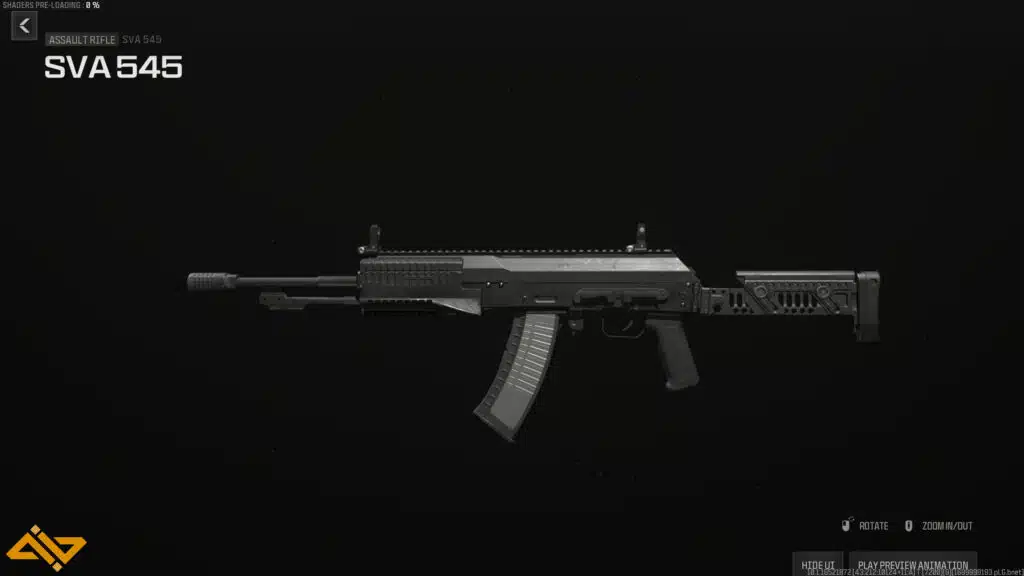 Unlocks at Level 4
The SVA 545 has a unique rate of fire mechanic where the first two shots are faster than the rest of the spray. This encourages players to use it as a burst fire weapon. But that also means that you'll be able to shred enemies much faster. This is one of the best assault rifles in Modern Warfare 3 right now.
Recommended Attachments for the SVA 545:
Underbarrel: DR-6 Handstop
Stock: FT TAC-Elite V3 Stock
Rear Grip: Demo 650 Grip
Magazine: 45 Round Mag
I've included attachments that increase the weapon's accuracy over long-range and provide you with more bullets per mag since the faster initial rate of fire means you'll run out of bullets quickly.
M4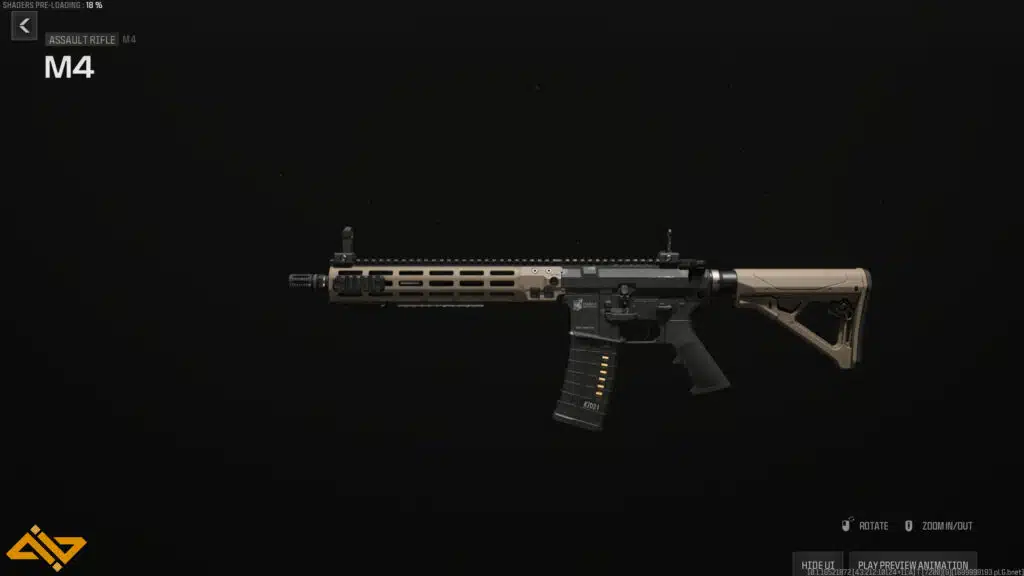 Unlocks at Level 4
We can't have a bad M4 in a COD game. This Assault Rifle is almost like a Toyota. It works and performs under any condition.
You are looking at an AR with an easy recoil pattern that works well at all ranges. Another thing that makes the M4 one of the best weapons in the game is the fact that you can start using it at Level 4.
Recommended Attachments for the M4:
Underbarrel: FSS Sharkfin 90
Muzzle: FJX Fulcrum Pro // Shadowstrike Suppressor
Barrel: Hightower 20" Barrel
Stock: Tempus P80 Strike Stock
This will create an all-rounder M4 for you that excels at close, medium, and long range. You'll have a lot of stability, higher damage at long ranges, and increased mobility to maneuver within buildings.
MCW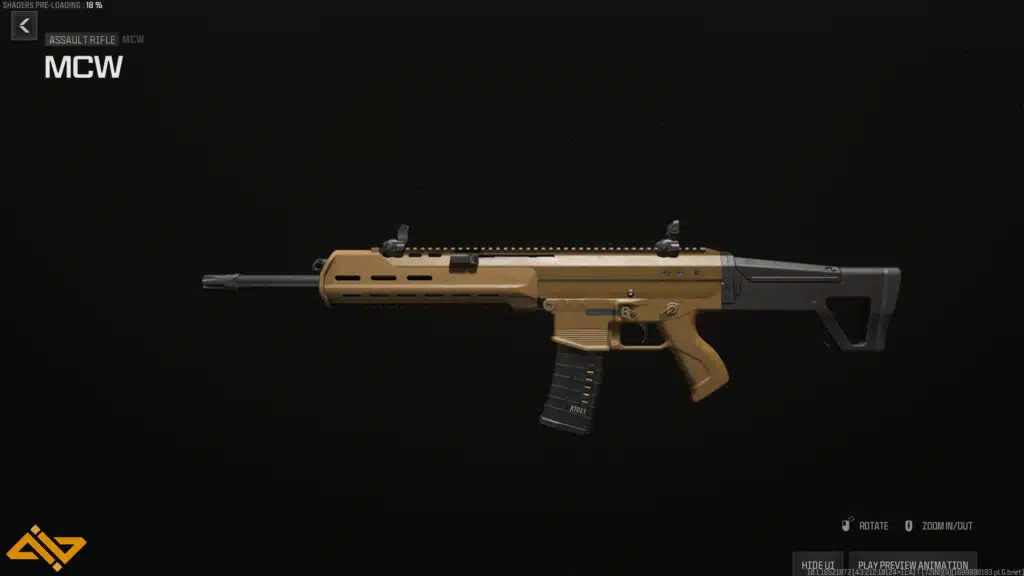 Unlocks at Level 44
The MCW is the best Assault Rifle you can use in Modern Warfare 3 based on it having the fastest TTK in the game, allowing you to beam players at any range. It was crowned as the best AR by COD Pros when the MW3 beta came out, and we are seeing the same results in the final game as well.
This gun is a recreation of the ACR from the original Modern Warfare 3 and has a similar low recoil, and high accuracy feel. This is the first AR I unlocked the Gold camo for in MW3.
Recommended attachments for the MCW:
Muzzle: Shadowstrike Suppressor
Barrel: 16.5″ MCW Cyclone Long Barrel
Underbarrel: DR-6 Handstop
Rear Grip: RB Claw PSL-Grip
Magazine: 40 Round Mag
The suppressor lets you move around the map stealthily. You'll mow down enemies in seconds anyway, so expect some easy killstreaks with this weapon. I'm sure it'll get nerfed pretty soon as well.
---
These were our picks for the best Assault Rifles you can create an effective class around in Call of Duty Modern Warfare 3. These weapons keep getting nerfed/buffed based on community feedback so, check back with us after every major update to see whether the ranking has changed or not. You can check out our other guides here.
---
Grab some COOL Call of Duty – Zombies Merch Here!
---