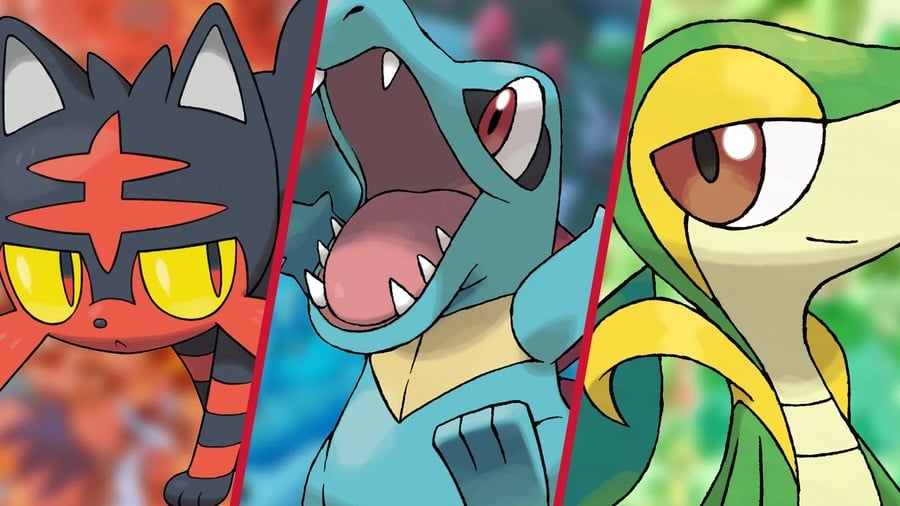 The results are in! Last week we asked you to pick your favourite Fire-, Grass- and Water-type starter Pokémon from across the mainline Pokémon series to discover your three favourites from the 24 starter Pokémon from the mainline games to date, including the Gen 8 starters from the soon-to-be-released Pokémon Sword and Shield on Switch.
A big thank you to the thousands who voted – now is the time to reveal your favourites. They've been counted and recounted. Here we'll give you the rundown of the top three in each category and reveal your ultimate starter lineup featuring the very best from across the eight generations of Pokémon. Be sure to check out our ranking of the best Pokémon games of all time if you're interested in how the games themselves face-off against one another.
Reckon it's going to be a Gen 1 walkover? Read on to find out…
Fire-type Starter Pokémon – The Top 3 As Voted By You
In reverse order, Scorbunny scored the fewest number of votes – arguably to be expected seeing as very few have had the opportunity to get to know the Gen 8 firestarter yet. Perhaps more surprisingly, he was closely followed by the cute little Tepig in 7th place. Fennekin, Litten and Chimchar took 6th, 5th and 4th places respectively, but the first three generations made up the top 3…
3. Torchic
With 13% of the overall vote, Gen 3 starter Torchic couldn't do enough to rule the roost, but still managed a respectable podium finish.
2. Cyndaquil
24% of your love put Gen 2 Fire ´mon Cyndaquil in second place, which leaves only one possibility for the number one spot…
1. Charmander
Yes, the top 3 fire-places follow their order of release, with Char-Char-Charmander taking the top spot. We can't help thinking his ultimate evolution into the mighty Charizard gave this little fiery fellow a helping hand. However he managed it, it's hard to argue with that face.
Next up, it's the Grass types…