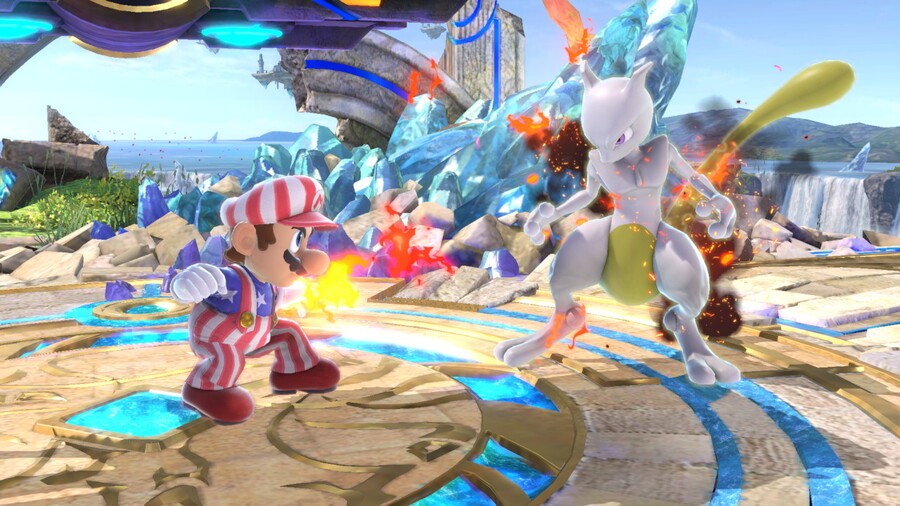 Super Bowl LIII is upon us all! This Sunday, the New England Patriots square off against the LA Rams for NFL supremacy. (As a Seahawks fan, barf.) It's anyone's guess who will take it all, but in the meantime, we can read the digital tea leaves with video game simulations. Ain't the future grand?
While, yes, EA Sports's Madden NFL franchise may be the conventional choice for calling the Super Bowl – predicting a 30-27 Rams win this year – it's certainly not the only game in town capable of doing so. Plus, Madden has skipped Nintendo platforms for several years now, leaving everyone leading the Nintendo life out from all of the predictive football fun.
With its plethora of characters, modes, and assorted whizbangs, we think we can get an equally accurate prediction using Nintendo's latest competitive powerhouse, Super Smash Bros. Ultimate. To prove it, we hit the lab to develop a predictive framework for the single biggest sporting event of February 2019 – adapting the rules, rosters, and match-ups one can expect to see this Sunday in Atlanta.
Read on to find out how we built it, the big trends and plays to watch for this Sunday, and a prediction of the real game's final score.
Welcome to Super Smash Bros. Bowl I!
The Rosters
Since no NFL players are in Smash (yet), we matched eight of the top players from both teams with the most appropriate Smash character to correspond with their skill set, characteristics, and physique. Here are your gladiators for the day.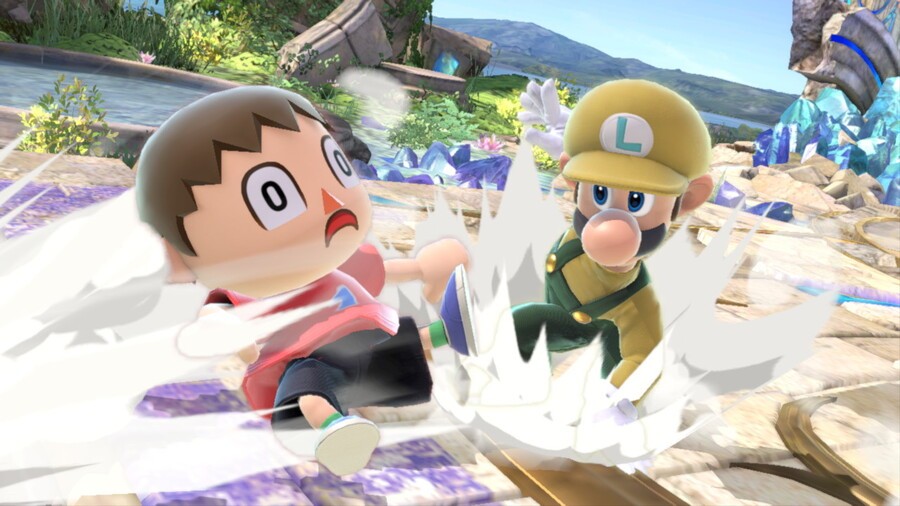 LA Rams

Offense
Jared Goff as Luigi – These noodly men may not get the same recognition as their peers but can deliver the goods when it counts. The physical resemblance is uncanny, too: throw a black moustache and green hat on Goff and nobody would be the wiser.
Todd Gurley as Captain Falcon – Two powerhouses able to blast through any opposition with a fiery fury. You don't want to be on the other side when they're heating up.
Brandin Cooks as Sonic – Gotta go fast! Cooks ran the 40-yard dash in 4.33 seconds at the 2014 NFL Combine, proving himself as one of the speediest dudes on the field. Like Sonic, Cooks keeps chasing rings: he was on the 2017 Patriots squad that fell to the Philadelphia Eagles.
Robert Woods as Pikachu – Electric playmakers that have shown remarkable consistency and versatility over their careers. Cover carefully or they'll shock ya.
Defense
Aaron Donald as Mewtwo – Aaron Donald is a freak of nature that was born in a lab by people playing with a power they do not understand. Mewtwo is that but Pokemon.
Ndamukong Suh as Ganondorf – Dominant forces with a history of sportsmanship issues. Suh is set to be a free agent at the end of the season, which is sort of like Ganondorf getting sealed into the Sacred Realm. Someone will eventually team up with them again.
Aqib Talib as Simon Belmont – These two share a love of zone defense and metal accessories. Yank their chains and hoo-boy are you in for trouble.
Marcus Peters as Fox – As a complementary duo, Peters and Talib create massive headaches in the backfield for their opponents. Peters-as-Fox's speedy strikes and projectile defensive abilities let him go on the attack while Talib-as-Belmont corrals the offense.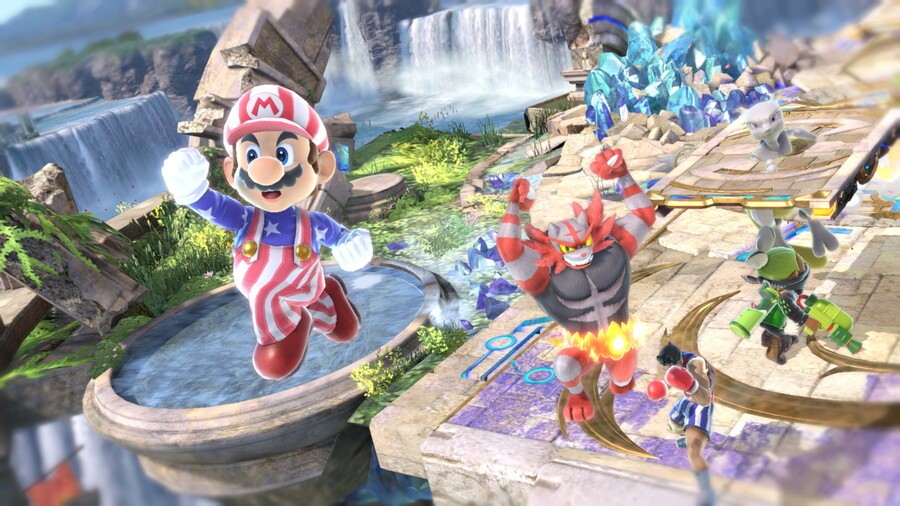 New England Patriots
Offense
Tom Brady as Mario – One GOAT deserves another, and nobody has had as much success in their respective fields as these two.
Julian Edelman as Little Mac – Scrappy gym rats capable of delivering knock-out punches on unsuspecting opponents. If they don't get you with speed, they'll get you with cunning.
James White as Inkling – White and Inkling both have and are versatile weapons up close or at a distance, keeping their opponents wary and weary.
Rob Gronkowski as Incineroar – Two literal cartoon wrestlers.
Defense
Stephen Gilmore as Marth – Gilmore earned two distinctions this year: one being named the best cornerback of the season by stat gurus Pro Football Focus, and the other being named a first-team All-Pro cornerback. He's practically defensive royalty, just like Marth.
Kyle Van Noy as King Dedede – Two big dudes who share a fondness for robes (educated guess) and that keep finding themselves in the thick of the fight, coming up with big plays when it counts.
Dont'a Hightower as K. Rool – One is a pirate king, and the other is a former captain out to crush his opposition. Which is which? You decide.
Devin McCourty as Villager – Villager is a huge pain in the butt for opponents to strategize around. Throw something their way and it'll get yoinked it out of the air. Charge at them and they'll fire a freakin' rocket at you. Get in their face and that's a bowling ball crushing every bone in your foot. McCourty's arsenal isn't filled with quite these same weapons, but is equally pain-butt to scheme around.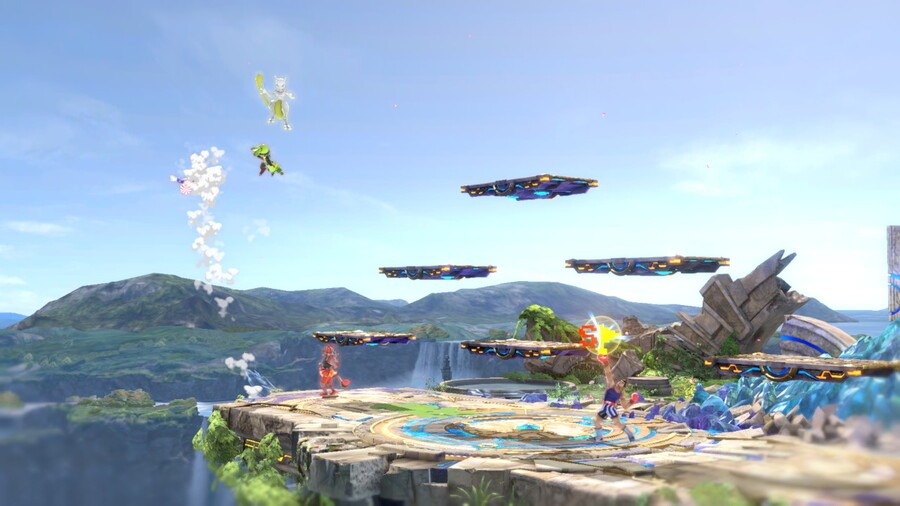 The Rules

The full four quarters are simulated across two four-vs-four timed games of Smash (patch version 1.2.1). Each timed game is three minutes long and represents one "half" of the real thing. The Patriots offense will face the Rams defense in one game, and vice versa for the other.
Each team is represented by four of the top players from their offensive and defensive units. Each player is a level 9 CPU, with Spirits switched off.
Big Battlefield is the arena of choice for being a clean, neutral landscape for eight-player competitive play.
A KO counts as a touchdown plus successful PAT, so good for seven points.
A Fall takes a KO off the board.
Teams must have a net-positive KO score for those teeders to count. There is no penalty for a net-negative KO score other than deep, deep shame.
Special Flags will appear periodically and represent successful field-goal kicks, awarding the team three points. Any side of the ball can bop one through the uprights.
The opposing team is awarded two points in the event of a self-destruct — that's called a safety, baby!
Aside from Special Flags, the only other item eligible to appear is the soccer ball. It's a football! What's football without footballs?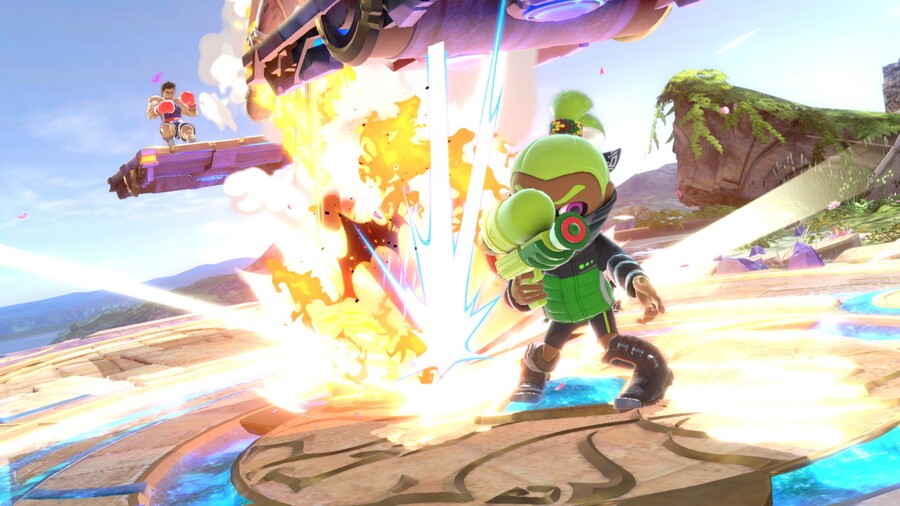 The Prediction
The New England Patriots triumph 33-9 over the LA Rams.
(barf)
Keep an eye out for these trends to emerge and big plays to unfold on Super Bowl Sunday:
Trick plays! Burned by the "Philly Special" last year, look for Patriots coach Bill Belichick and his football galaxy brain to draw up a miracle play that exploits a little-known or archaic NFL rule. In our simulation, one play design sent wide-receiver Edelman off to his own side of the field to boot a field goal through his own team's uprights, stunning onlookers but good for three points. Don't be surprised if it turns out to be a legal move — you heard it here first.
Defensive dominance! Both teams are arriving with stout defensive units sure to give the opposing quarterback heartburn all night, be it through trouble up front or strong coverage of receivers. Expect Brady and Goff to feel the pressure, in many cases *checks notes* throwing fireballs at nobody in particular.
Hilarious QB sacks! Watch for Suh jumping in with the Up-B out of nowhere to dominate a frazzled Brady limping along at 169% damage, sending the New England great off to the big lobster roll in the sky.
Heartbreaking turnovers! We've got good money on Suh nearly running away with a field goal toward the end of the half that's then blocked by Gronkowski, who recovers and kicks it through the uprights for three. Again, you heard it here first.
Halftime show shenanigans! The planned performance by Maroon 5 and Travis Scott will make way for a special performance by the Squid Sisters that is both electric and brave.
Intense focus! Nobody will be interested in the soccer ball.
Match-up breakdowns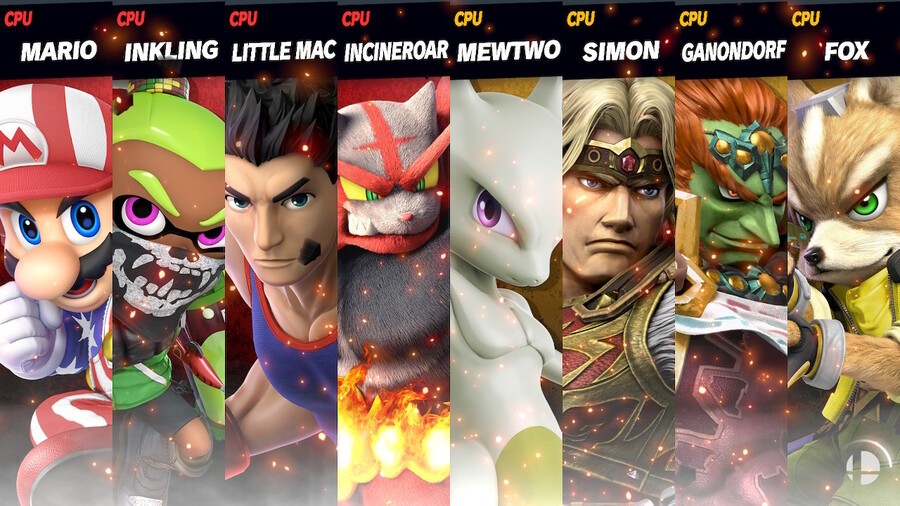 Patriots offense vs. Rams defense
The Rams jump into an early lead as Gronkowski and White fall to Earth in a beautiful double-doink from Aaron Donald. Ultimately, the lead doesn't hold for long, as the Rams struggle to contain New England's passing game throughout and fail to capitalize on their own advances.
On the Patriots side, Julian Edelman torches everyone but Suh, racking up four KOs and a field goal against two falls. Gronkowski dishes the most damage of anyone on the field — laying the groundwork for Brady and Edelman to do their work but ultimately finishes with a muted score sheet of one KO and a field goal himself against two falls. Brady doesn't have his most impressive game with low damage dished throughout, but does his job by pulling in two KOs against one fall. James White's run game is stuffed, with no KOs and one fall to his name, but provides a bump to New England's score sheet with a field goal.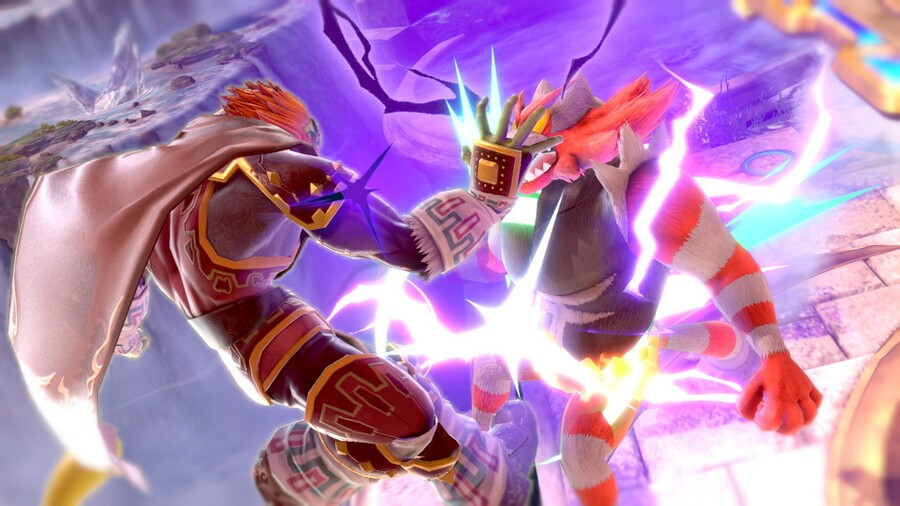 The Rams D manages to take White largely out of the equation but are frustrated elsewhere throughout. Their early lead is squandered by failing to consistently cash in on the massive amounts of damage they inflict on their opponents. Suh's field goal fumble is recovered by Gronkowski towards the end of the half to erase any hope of the Rams putting themselves on the board, finding themselves with a net-negative KO score and no field goals at the close.
PATRIOTS: Net +1 KO (7 points); 3 field goals (3 x 3 points) = 16 points
RAMS: Net -1 KO (0 points); 0 field goals (0 x 3 points) = 0 points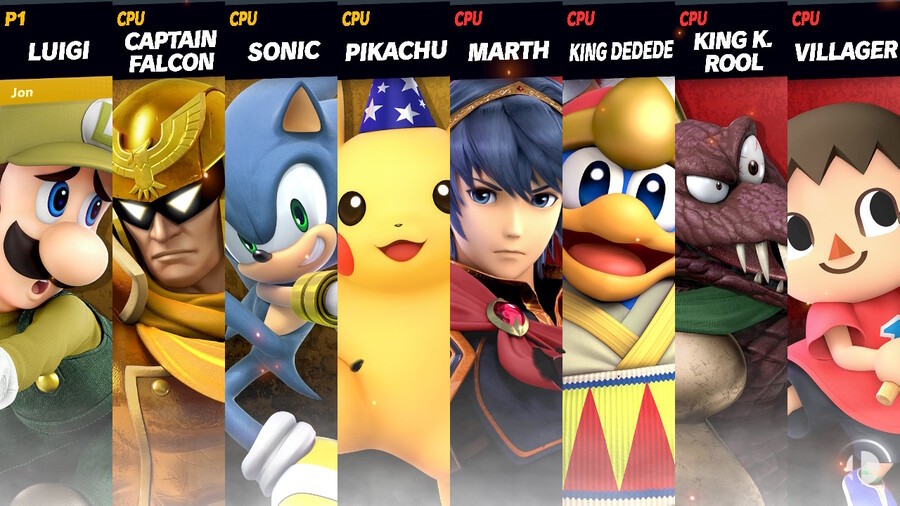 Rams offense vs. Patriots defense
Finding themselves in a rather large hole after failing to do much of anything to stop Brady and his boys, the Rams turn to Goff, Gurley, Cooks, and Woods to do what they've done all season: get them points. Unfortunately for the Rams, things don't quite go as planned — their red zone troubles continue to be a bugaboo for them on the biggest stage of them all.
New England puts in a beastly performance on defense, completely dominating up front and ripping Goff's heart out (figuratively) as they put up net-two KOs and boot in a field goal. Meanwhile, McCourty and Van Noy feast on LA, putting up three KOs each against a combined three Falls between them. Hightower breaks even and scores no touchdowns but does thwack in a field goal to add three.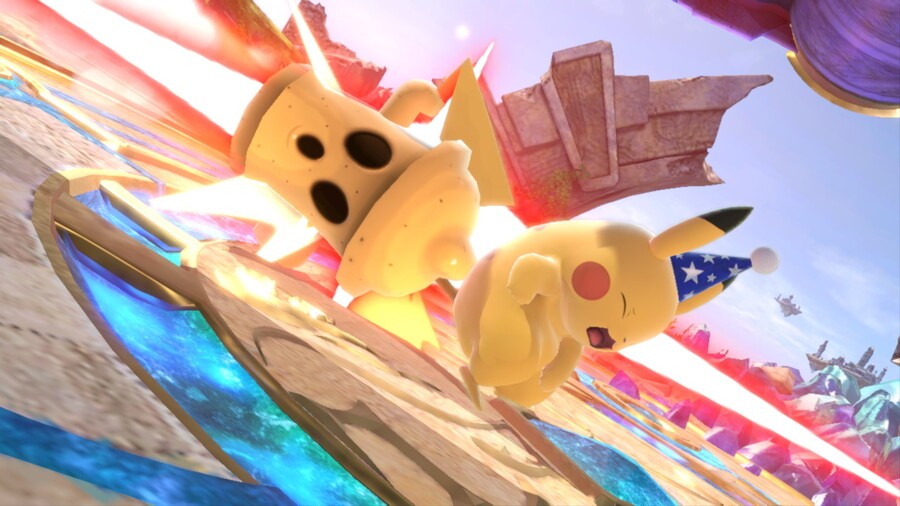 Gurley fixes whatever woes he's had in the postseason this year for a monster four KOs and a field goal against two Falls. What should be a breezy 17 points pulled in by Gurley is undone by the Patriots suffocating the rest of the offense. Goff spends most of his time running for his life, suffering one Fall each at the hands of McCourty, Van Noy, and Gilmore. He puts up one KO and a field goal to lessen the damage, but those three Falls wipe a lot of points off the board. Woods is made a complete non-factor — in fact, a drag on the team — as the electric receiver is kept off the board with two Falls against zero KOs. Cooks fares little better, with his one KO neutralized by McCourty knocking him off for a Fall. His field goal stands, though, adding three to the floundering Rams's total.
RAMS OFFENSE: Net 0 KO + 3 field goals (3 x 3 points) = 9 points
PATRIOTS DEFENSE: Net 2 KOs (2 x 7 points) + 1 field goal (3 points) = 17 points
FINAL: Patriots 33 – Rams 9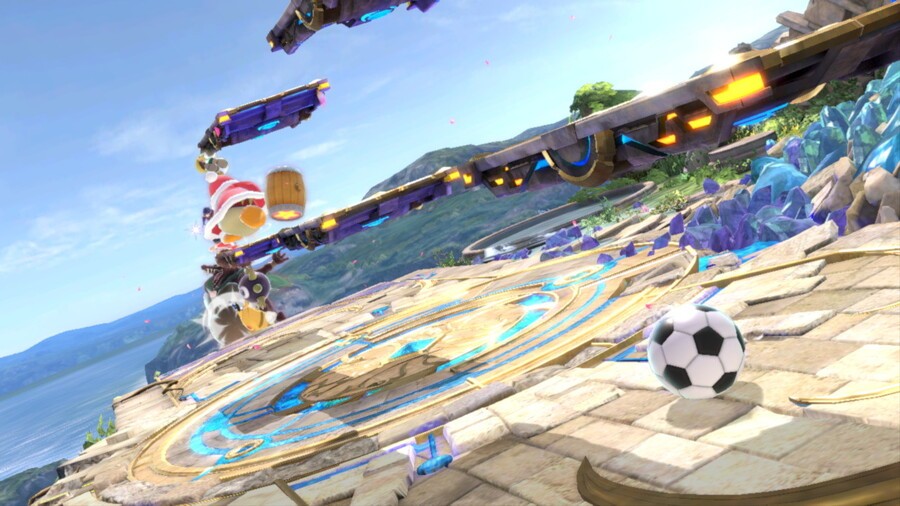 Science! What a beautiful thing. How close do you think Smash Ultimate will get to predicting the real deal? Sound off in the comments below!