The Epic Games Store releases its latest free game while confirming that the final free game for October 2021 is yet another creepy title.
The Epic Games Store has been celebrating Halloween with its special Halloween sale and through its free game offerings. The last few weeks of October have seen the Epic Games Store release horror-themed games that are perfect for the Halloween season, with the latest offering being Among the Sleep, available now until October 28 at 10am CT. Epic Games Store users have a week to claim Among the Sleep for their collection, and they know what's in store for them next week as well.
Epic Games Store is ending its October 2021 free games lineup with the creepy DARQ: Complete Edition. In DARQ, players take on the role of Lloyd, who is trapped in a disturbing lucid nightmare. A psychological horror game where players are defenseless against the monstrosities living in Lloyd's mind, the bizarre Tim Burton-esque art style and haunting music should go a long way in creeping players out this Halloween.
Before Epic Games Store users can get their hands on DARQ: Complete Edition, they have Among the Sleep: Enhanced Edition to claim. While the vast majority of horror games feature adult playable characters, Among the Sleep: Enhanced Edition puts players in the role of a two year old child instead. A first-person horror game, Among the Sleep has players exploring terrifying areas and is a solid pick for a scary game to play this Halloween season and is available on PS4, Nintendo Switch and XBox One and Series X from Amazon.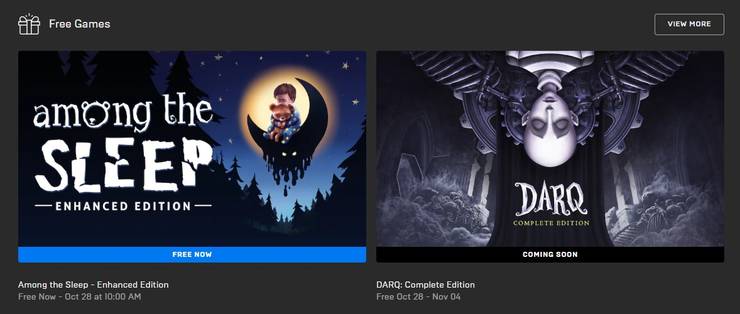 Among the Sleep (October 21 – October 28)
DARQ (October 28 – November 4)
Among the Sleep and DARQ are the latest horror-themed games Epic Games Store has given away in the month of October. While it started off October 2021 without a Halloween-appropriate game, the Epic Games Store gave away Stubbs the Zombie in Rebel Without a Pulse for free from October 14 to October 21. Stubbs the Zombie is not a horror game in that it's not trying to scare the player, but it does have horror themes.
Those who claimed Stubbs the Zombie in Rebel Without a Pulse while it was free on the Epic Games Store will be able to play a game where they take on the role of the titular Stubbs the Zombie. Whereas most games have players killing hordes of zombies, Stubbs the Zombie has players controlling the undead masses, eating brains and turning unlucky humans to zombies.
Since DARQ will be free on the Epic Games Store from October 28 to November 4, it seems likely that the next Epic Games Store free game will be a non-horror game, though that remains to be seen. Epic Games Store users will find out next week.
Sometimes we include links to online retail stores. If you click on one and make a purchase we may receive a small commission. Read our policy.