Unite the geeks of all ages, has been All Ages of Geek's slogan since the foundation of the company.
Starting as a YouTube gaming channel with Katya Stec playing games like God of War, Life is Strange and The Last of Us, All Ages of Geek has always been a place to geek out and is now known as the go-to hub for geeky interviews, reviews and news.
By joining All Ages of Geek's Patreon, you get access to thousands of hours focused on anime reactions like Dragon Ball Z or Naruto, Star Wars reactions and their recent announcement reactions and discussions to Critical Role and DnD Campaigns. Talk about geeking out!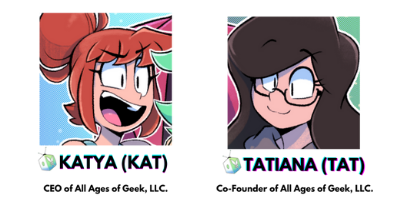 The dynamics the Stec Sisters have is reflected in their work as up-and-coming authors as well. As hinted in their The Legend of Vox Machina Reactions the sisters have discussed many original writing projects. Their entire Elden Ring gameplay series is about an upcoming comic they will be hosting on Webtoon, while their recent project "Galaxy-Boy Delivery" is a whole new venture entirely.
"Galaxy-Boy Delivery" is a VTuber interactive web-series that will live as a show on All Ages of Geek's YouTube Channel. Featuring a hyper prince with a dark past and an alien with the powers to control the zodiac, "Galaxy-Boy Delivery" is the first original series the Stec Sisters will be produced independently.
"We wanted to bring more all-age content to All Ages of Geek outside of our reactions." Katya Stec mentioned, talking about how All Ages of Geek is setting up to produce more original stories for their audience to escape into. "Galaxy-Boy Delivery will be the first series we produce under Stec Studio our newest venture as a content distributor."
Stec Studio was recently formed to house all of the Stec Sisters' projects under one name. This includes:
All Ages of Geek their geek culture multimedia company.
Meta Wired Media which is a work-for-hire Fiverr service for Press Releases, video creation and news distribution for tech and gaming.
All Ages of Geek Unite is a secondary YouTube Channel promoting a pool of talent like Ernie Kim (itsthego on Twitch) a Valorant streamer.
Original published works such as "Galaxy-Boy Delivery".


The studio (as stated on their new Twitter) is a Multimedia Sister-Run Publisher focusing on tech, literacy and online media.
"We hope to create and continue to create interactive media that will enlighten the mind of viewers while also connecting people around the world through the love of creativity and geek/tech culture." The Stec Sisters said when discussing Stec Studio as a whole.
Be sure to follow the new Stec Studio here on Twitter and catch up with All Ages of Geek's projects on their website.